Shadow 900 Sun Top and Spyder
Welcome to the most awe-inspiring new boat launches of 2020, when we slip the covers off two versions of the new BRABUS Shadow 900. Extravagant, hedonistic and brilliant, welcome the new flagship of the BRABUS Shadow range.
Packed with technical innovation and blistering performance at heart, we proudly present the new BRABUS Shadow 900 Spyder, in full-open version, for pure, unadulterated driving pleasure and the new BRABUS Shadow 900 Sun-Top, the comfortable passage maker.
A NEW LUXURIOUS COMFORTABLE 'LOUNGE'
Swathed in 'sport-pattern', cool grey and black BRABUS Fine Leather® and Dinamica with contrasting red accents and stitching, the front cabin with a 'queen size' sleeping accommodation has a sense of space and luxury more associated with a supremely comfortable lounge. Extend the lounge experience with an optional integrated infotainment unit, comprising a 42-inch flat screen 4K TV and Apple TV connectivity to mention a few of the options available.

BRABUS SHADOW 900
The open-air thrill-seeker, built with obsessive attention to details, the Shadow 900 offers adrenaline-fueled excitement, superior performance, acceleration, and torque, providing an ultimate luxurious driving experience.
Take pleasure in customizing your boat by selecting one of three available Gelcoat colours for your Shadow 900, and let your boat truly express your personality. Choose from our modern and contemporary colours; Platinum Grey, White Grey or Glacier Blue and finish your customization by selecting one of four available vibrant fabric colours; BRABUS Red, BRABUS Cappuccino, BRABUS Sunrise or BRABUS Sapphire.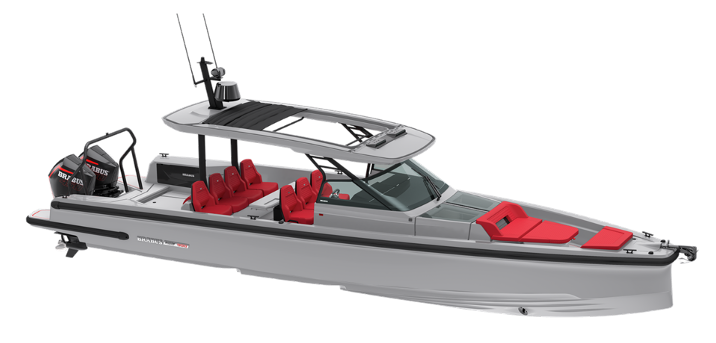 CLASS-LEADING DRIVER EXPERIENCE
Pre-eminent amongst the myriad of changes on the new Shadow 900's is a complete evolution of the hull and its hydrodynamics. Hours of R&D, CFD test-data analyses, hull visualisations and, of course, physical sea-trials have been poured into these distinctive and assertive new creations.
The result of this exhaustive process is increased performance and a top speed of over +10 knots, lower fuel consumption, and flexible cruising speed-range at comfortable speeds of 30-40 knots and up to blistering 50 knots cruising speeds for those seeking thrills as well as a fast and safe passage.
BLISTERING 60+ KNOTS PERFORMANCE
The Shadow 900 range benefits from Mercury Marine's latest dual 450R Verado XL 4.6 litre V8 FourStroke engines with Joystick Piloting for easy docking and maneuvering.
At just 320 kg apiece these masterpieces of technology weigh some 135kg less than their nearest competitor and have 40 per-cent more torque than their 400hp equivalent, the perfect engines for the Shadow 900's. The power to weight ratio for each engine is best in class, improving hole-shot acceleration and creating the renowned driving experience of a Shadow 900.
Boats can be optioned with a full Open aft deck, a new multi-storage solution for carrying large items of water-sports and adventure gear a BRABUS Aft Cabin, with the interior treatment completely remastered by interior experts at BRABUS or with a Wet Bar package including an integrated electric grill, wash-hand basin and top-loading fridge.
ELEVATING THE ONBOARD EXPERIENCE
Better utilization of space includes new multi-storage solutions for adventure gear, a larger foredeck, and more versatile social areas, with improved freedom of movement all around the boat. Below deck, there's a significant enlarged front lounge, with Gullwing doors and also available with an optionally enclosed toilet compartment.
THE PERFECT TENDER OR REGATTA CHASE BOAT
Perfect for owners of larger yachts or anyone longing to get back behind the wheel and take-off by themselves or bringing alone their families and quests for an adventure of their own. The Shadow 900's are built to re-ignite the passion for driving a boat even with no need for a crew onboard!
As a first-class superyacht tender, or regatta chase boat, creating the right first impression for clients and VIP's is important and few boats can match the visual drama and sense of excitement offered by a BRABUS Shadow 900.
Safely transiting passengers from ship-to-shore, whatever the weather, even in arduous sea conditions. The low freeboard means it's easy to step onboard and with the optional boarding steps at the stern makes transferring people from boat to boat safe and comfortable. The shallow draft and outboards enable access to all kinds of places that larger yachts cannot reach, enabling owners to discover hidden bays and idyllic remote anchorages.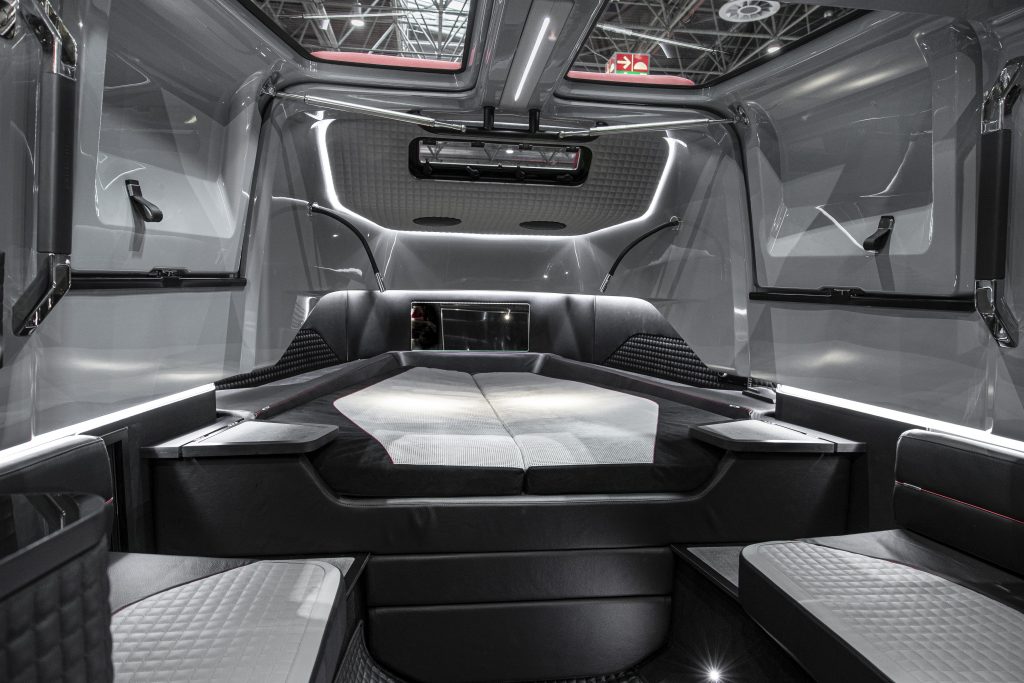 TECHNICAL SPECIFICATIONS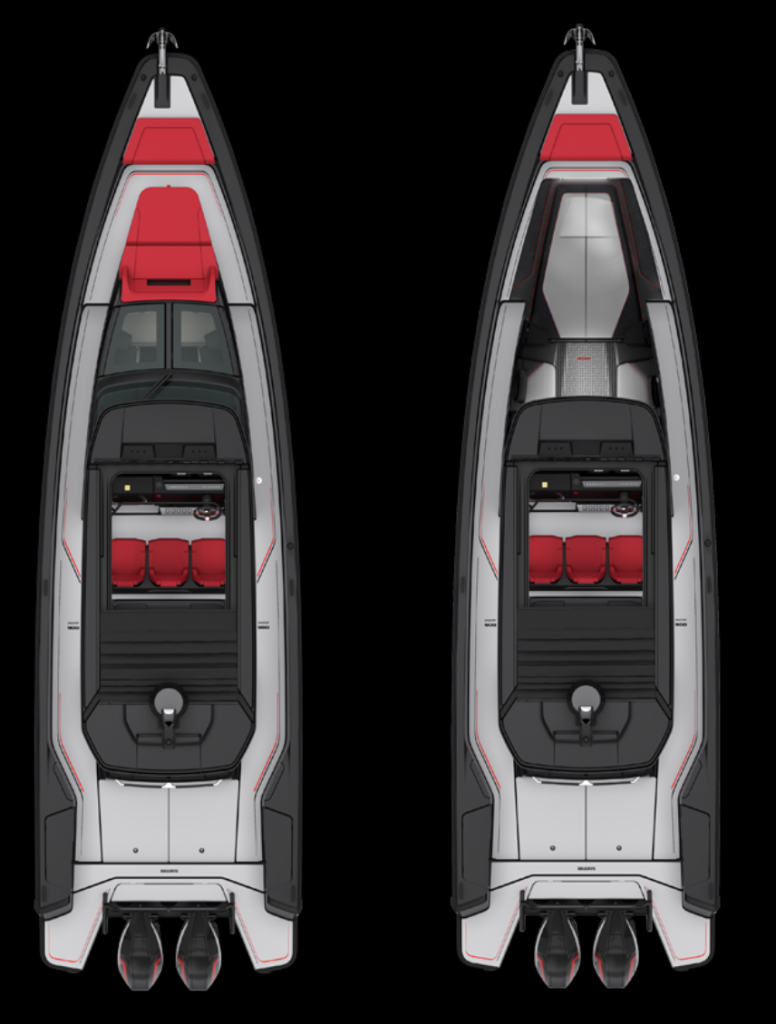 Length – 11.73m (38ft 5in)
Beam – 3.35m (9ft 8in)
Draft to Props – 0.85m (2ft 9in)
Weight (excl. Engine) – 4200kg (9260 lbs) SPYDER / 4300kg (9480lbs) SUN-TOP
Passengers – 10 Cat B / 12 Cat C
Berths – 2 persons (2 + 2 with optional aft cabin)
Fuel Capacity – 730L (192gal)
Classification – B Offshore, C Coastal
Max Speed – +60 Knots
Outboard Engines – 2 * 450HP
Hull Design – Twin stepped 20degree V "Sharp entry hull"
Specifications may be changed without prior notice. Performance may vary due to equipment, weather and load conditions
STANDARD FEATURES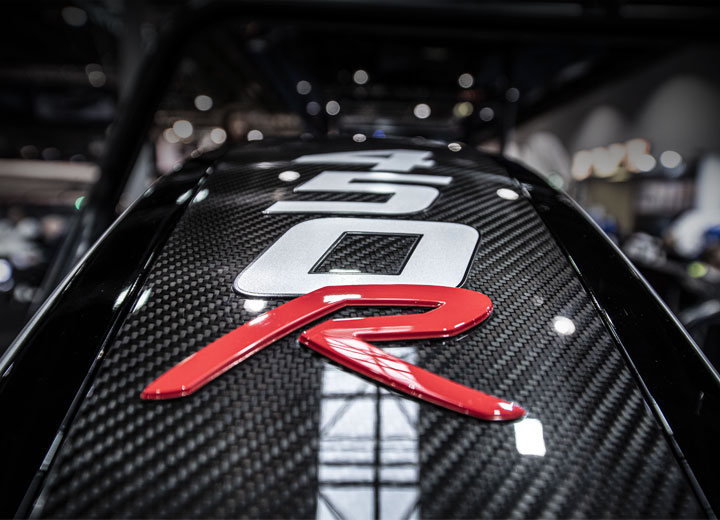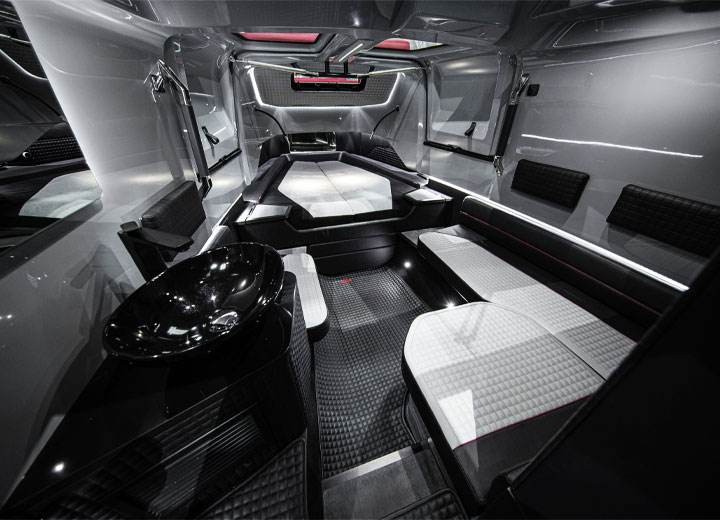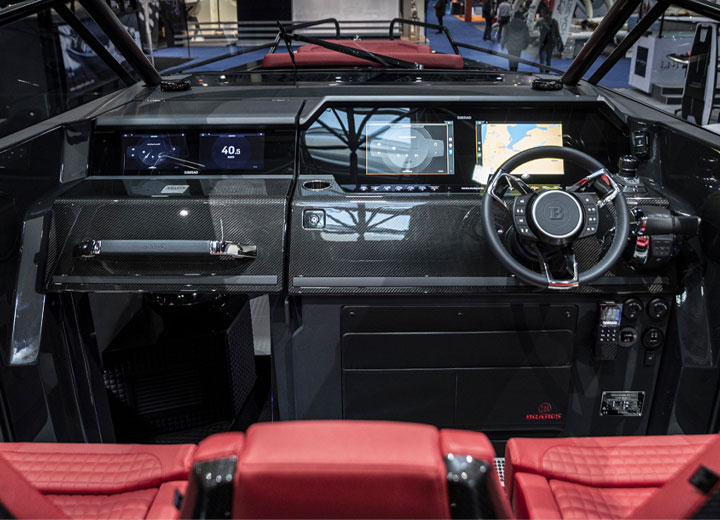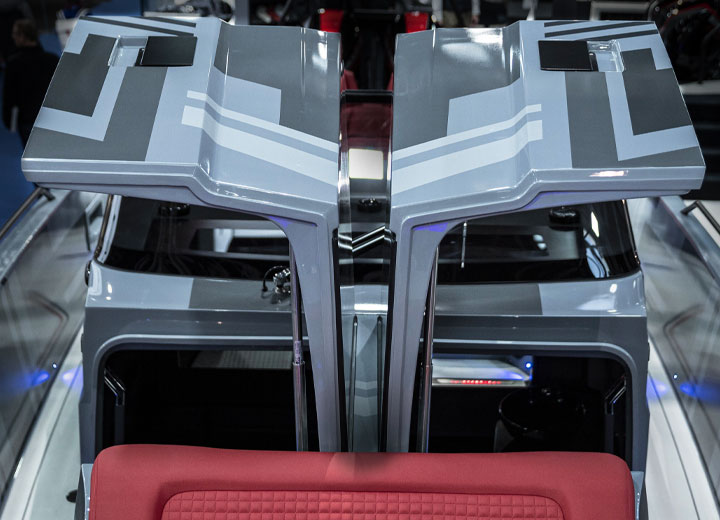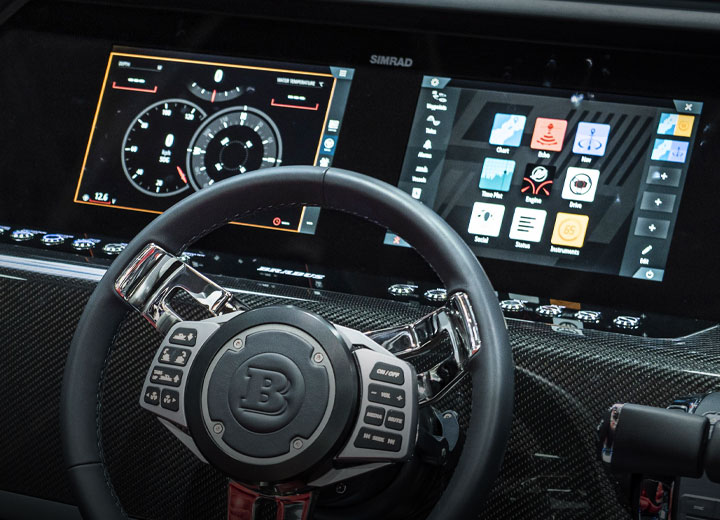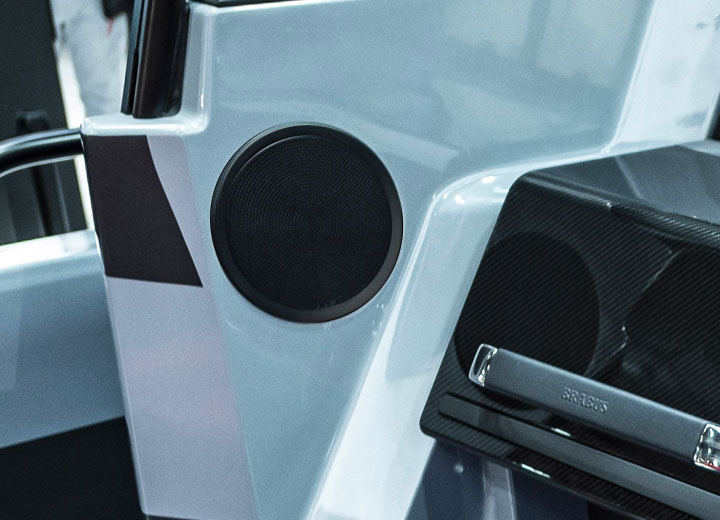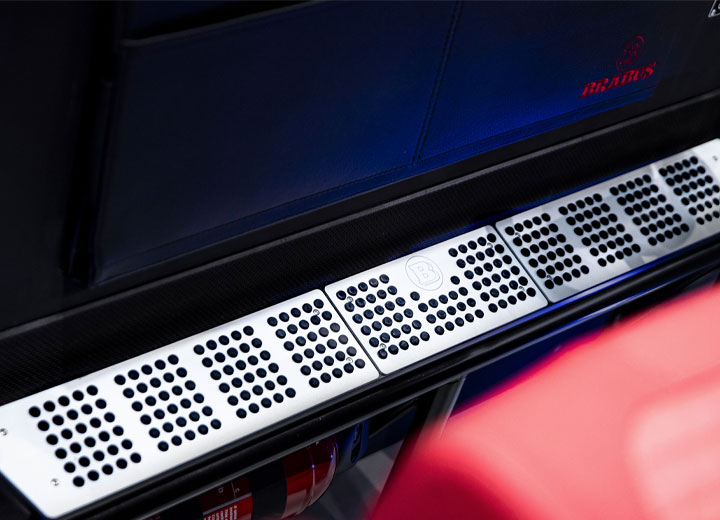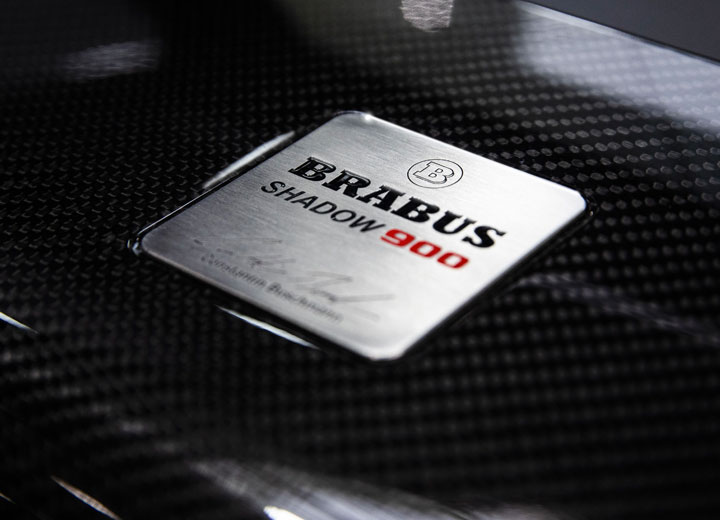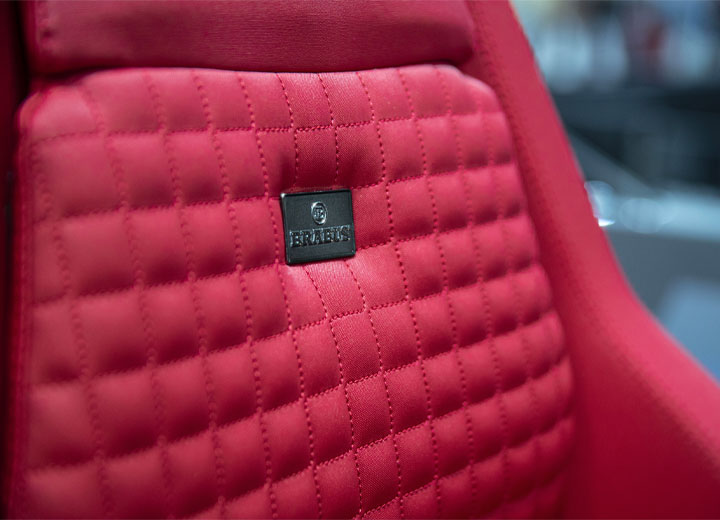 OPTIONAL EQUIPMENT HIGHLIGHTS