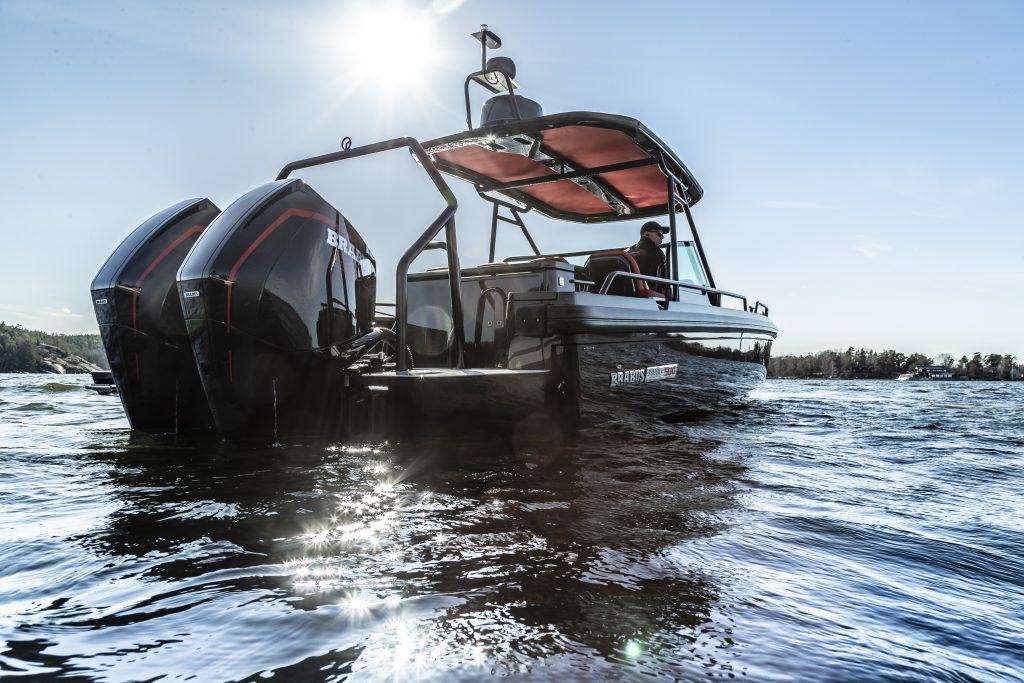 Brabus Shadow 500 Black Ops 1 of 28:
Speed, Acceleration, Agility and Excitement; all common words used to describe the latest supercar in magazine reviews. So then, after having sea trialled the newest member to the Brabus Marine range, why is it that I find myself subconsciously writing the very same words on my notepad to describe their latest creation? I'll explain below.
To start off, let's look at what a Brabus Shadow 500 "Black Ops" 1 of 28 actually is.
It has inherited Axopar's very successful and useable 28 hull with twin stepped 20 degree V "Sharp Entry Hull" measuring at a length overall of 9.18m and weighing in (ex engines) at 1.840kg. Brabus have chosen to base the layout on the 28 T-Top, which can be configured 3 ways; completely open on the aft deck, with an aft cabin or an integrated wetbar/grill package. The engines have been upgraded on this hull from twin 200hp 3.4l V6 Mercury engines to Mercury's New XS pro 4.6l V8 250hp. The upshot of this change gives an impressive 500hp at 6200 RPM!
Inside the Shadow 500 you will see it has been finished in luxurious sport stitched, Brabus Red Silvertex upholstery and is dripping in carbon fibre parts, manufactured in-house at Brabus HQ, Germany. The attention to detail on this vessel is second to none and pays homage to its automotive roots which need no introduction.
The hull has been hand painted in a Gunmetal -Grey, a colour scheme unique to the company's launch colours.
Brabus cars have always been the cars that you take a second glance at and turn your heads as they drive past. This continues with Brabus Marine; it is the boat you would expect to see the bad guy skippering in a Bond movie! It is by far the most unique vessel I have seen on the south coast.
Onto the seatrial, where conditions were testing, although typical for the UK this time of year where winter meets spring. We were greeted with a strong south westerly force 6, some sunshine mixed with torrential rain and an improving 2 metre swell.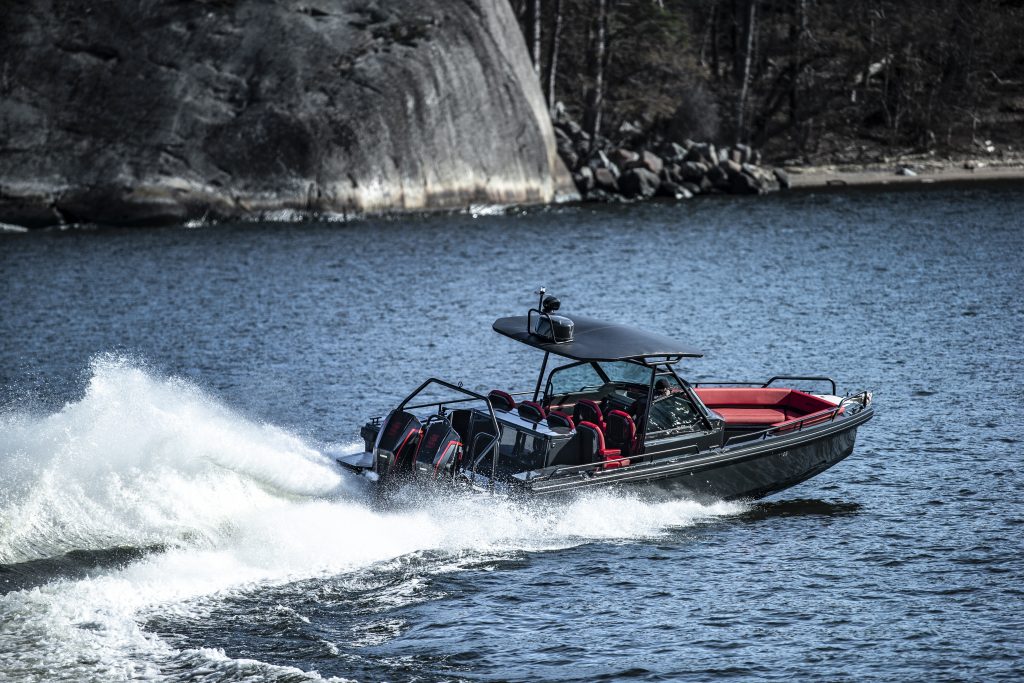 The boat was fully laden with six people on board including safety equipment, fuel and water.
We began by turning over the engines and the symphony of the V8 came to life. It was evident at this point, we were on something specialized.
Leaving from Poole Quay to Studland Bay, ticking over at 6 knots, everything was very comfortable and synonymous from previous trials I had completed on this hull; but this is where the similarities ended.
Once we reached open water and pushed on the throttles, the Shadow 500 turned into a completely different animal and kicks you back into your seat. It has a violent surge of torque that just keep going and going. Top speed on the trial, 56 knots! But it's not just the speed which makes this boat so good, it's the way the hull grips to the surface and comfortably ploughs through the rough conditions with ease.
Anyone can have a good time on the water in glassy conditions, on any motor vessel, but to perform the way the Shadow 500 did in the conditions we were faced with was very impressive. As a Yacht Broker, I am fortunate to spend a lot of time on the water, on a variety of different boats, but it has been a long time since a boat had me smiling from ear to ear. The only negative; I had to give it back! I want one!